We're Having a Contest!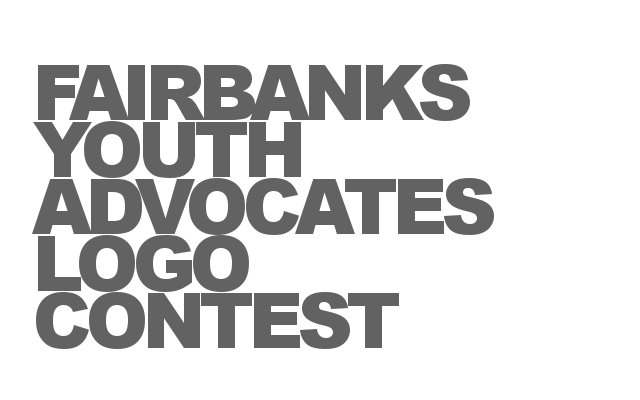 Fairbanks Youth Advocates is very excited to announce our first contest: designing our logo.
We would like to invite creative, compassionate graphic designers – from hobbyists to professionals – to engage with our organization and help us create a logo that expresses who we are.
Fairbanks Youth Advocates is an organization working to meet the needs of Interior youth. Our current focus is on opening The Door, an emergency shelter for runaway and homeless youth aged twelve to seventeen – but Fairbanks Youth Advocates is more than that. Our mission is to "Facilitate life transitions for at-risk youth." For us, that means meeting this gap in services for homeless teens, but also expanding our services to connect teens and their families to resources in the community that can help them, providing for other youth needs, and becoming an advocate and safe space for young people. The logo should be designed with Fairbanks Youth Advocates, rather than merely The Door, in mind.
The contest:
Designs should feature our name or initials (FYA), have no more than three colors, and incorporate the themes of freedom, change, love, and/or motion. Contest submissions will be judged by our Board of Directors and a winner will be selected. That winner will receive $150 and their design will become our official logo. Submissions will be posted on the Fairbanks Youth Advocates facebook page for the duration of the contest. Community members may vote on their favorite images by "liking" them. The Community Choice winner will receive an Amazon.com gift certificate, and has an equal chance of being selected by the Board of Directors. Submissions will be accepted until Friday, April 13th. Should no appropriate designs be submitted, we reserve the right to not choose a winner.
See our Logo Contest page for more information, and don't forget to read the Rules!