Are you an artist between 12-18 years old?
Fairbanks Youth Advocates' First Annual Paint The Doors contest might be for you!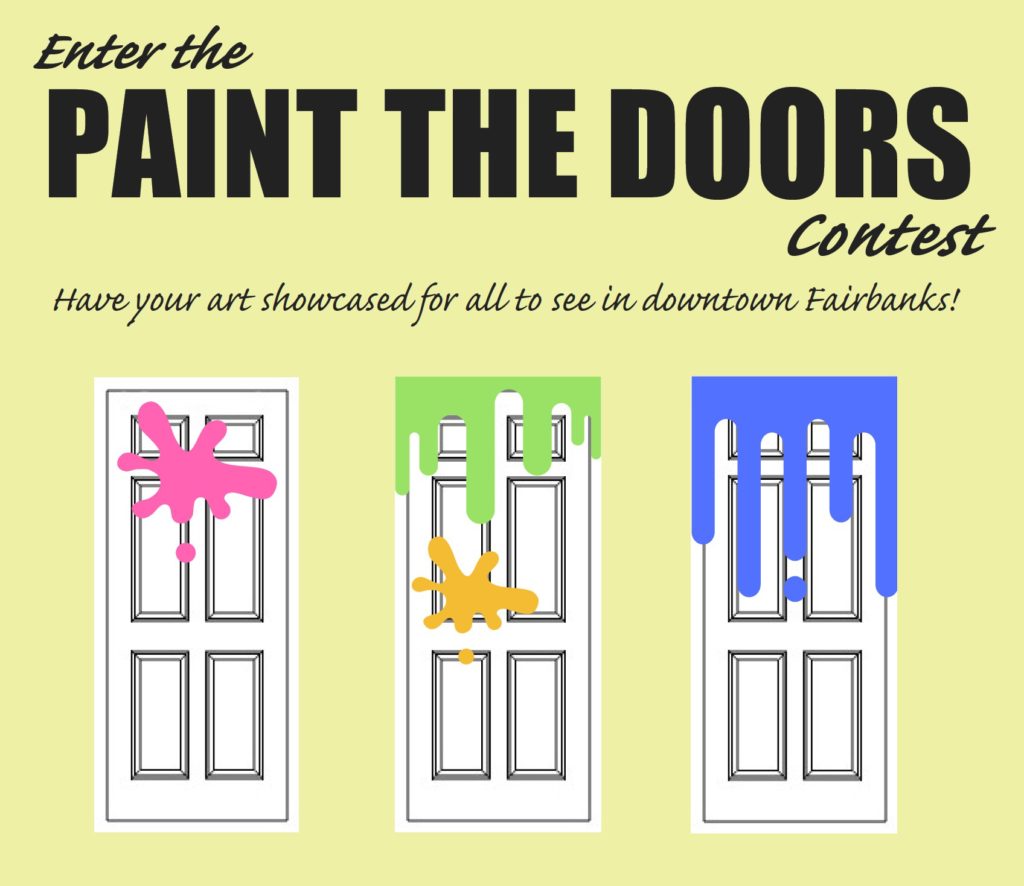 Back Story
FYA wants to give young people a voice. If you have something to say in an artistic way, we have 3 stationary doors in our new Park that are begging for your creative expression.
Contest Summary
Local youth are invited to submit an artistic concept for 1 side of a wooden door, based on one of the themes provided below. Local judges will choose 6 different winners. Youth artists will be responsible for painting their design concept onto the door assigned to them by a certain date. Doors will remain painted until the following year when the contest recurs and will be visible for tourists and community members. The doors are displayed outside in the Park at 126 10th Ave.
Contest Details
Participants must be ages 12 through 18.


Proof of age may be requested
Registration link here
Must be complete…. remember

Signatures

Choose a theme

Title your piece

Include personal connection to this year's "theme"

Submit concept on 8 ½ by 11 paper
Contest Timeline
April 21, 2017, 5:00 p.m. Submissions are due at 138 Tenth Ave. or mailed to 122 Tenth Ave OR SCANNED via email: julie@fairbanksyouthadvocates.org
 May 13th, 5-9:00 p.m., Winners announced publicly at 126 Tenth Ave.  in the park – at Paint The Doors BBQ event.
 May 20, 2017 – June 17th, 2017  Artists are free to work on their door between 9 a.m. & 10:00 p.m.
 June 18th, 2017 – 5:00 p.m. Doors must be completed
Themes:
"I am courageous"
"I am powerful"
"I am strong"
"I am intelligent"
"I am adventurous"
"I am resilient"
"I am creative"
Concept Submission
Deliver to Fairbanks Youth Advocates by April 21, 2017 by 5:00 p.m.

Mail: Fairbanks Youth Advocates, 122 10th avenue, Fairbanks AK 99701

Drop off: The Door, 138 10th avenue, Fairbanks AK

Email: julie@fairbanksyouthadvocates.org
Questions & Answers
Can I submit multiple ideas? You may submit up to 3 concepts/narratives. Each concept/narrative must be for a different theme. Only one submission can be chosen per artist.
Can I submit for a group or team? YES, 1 submission + 1 registration listing all team members. 1 team representative, the Team Leader, is the contact.
Can I fill out a form as a group? How do I fill out a form for my group submission? Yes you may submit a concept as a team. Each team member must fill out and initial the youth acknowledgement form with parent/guardian signature. Please indicate at the top of each submission that you are a part of a team by writing the team name. Only one concept page needs to be submitted per team – please submit all group members' documents at the same time to avoid confusion.
I have more teammates than available spaces on the form – where do I write their names? You can have as many teammates as you like – just be sure to have them fill out a youth acknowledgement form and you may write their name and age on the back of the team leaders submission.
What supplies am I responsible for? The artists are responsible for art/paint supplies, including brushes. FYA will provide drop cloths & tape. FYA will provide the primer for the pre-paint AND the acrylic varnish to YOU, the artist, for when your piece is finished. Artists are responsible for putting the coat of varnish on their work.
Painting a door is expensive. Can FYA help with costs? Contact us if you need help. We have some ideas.
Am I restricted to use a certain medium? No, but artists will need to use outdoor, winter friendly mediums. Art work needs to last for a year.
How do I know which door I will paint? At the May 13th evening BBQ event, Artists names will be drawn out of a hat. Each artist, in the order their name is drawn, will be able to choose which door and side of the door they want to paint. The last name out of the hat will take the last side not chosen.
What will the door have on it when I am ready to paint? Doors will be primed with a neutral color the night of the Paint The Doors BBQ event.
Who are the judges? Judges will be announced at a later date but will be made up of community members.

If I still have questions…? Questions should be directed to Christina or Julie @ at The Door 374-5678
Resources and Links: